Lately I have been having a hard time dividing my "retired" life between my two hobbies - scrappin' and sewing! I am so lucky in that I have dedicated rooms for each hobby - one for my stamps and my paper crafts and the other for my sewing!
(As soon as I clean up each room, I will post pictures!)
I found this really cute blog - check out her 1966 picture of herself! ( Click on the picture below)
Bee in My Bonnet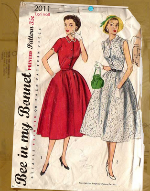 I decided to post this on my scrappin' blog so I could let you know that I have started a sewing blog - Sweet Aline Designs here! You can keep up with me on all of my other 'hobby' projects I am working on. I love to challenge myself and now I am working on some samples for the "DesignWorks DIVAS"! class - so stay tuned for that post!
If you are a "SS" - sewer/scrapper, please post a comment and let me know I am NOT the only one in the US! Check out my blog to see what else I have been working on!