July 1st brought some exciting news! I am a Design Team member for the H2H Challenge Blog. You can find the information in the post here. But if you have been following my blog then you already know all there is to know about me! :)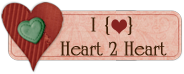 This challenge blog is to inspire you to 'amp' up your creativity! For me, I hope it gets the scrapbook pages finished and in the book!
You can find all of the information and my one page layout for the Red and White Daisy challenge here. Please join us for the first scrapbook challenge of July!
Tomorrow I will bring you another one page layout! See you then!